I did it! For this week's
Sew & Tell Friday
at
Amylouwho's blog
, I finished Ben's shirt! After I decided to sit down and just do the sleeves - as everyone suggested - I realized I wasn't even going to be done yet. I did the dive-in thing, and felt so proud once the first sleeve seemed to look right, and then I remembered the even more daunting and unfamiliar task of... BUTTON HOLES! I was a little bit freaked out, but I persisted. Late this morning, Ben got to put on his shirt. Now he doesn't want to take it off! I'm glad it turned out and that he loves it so much!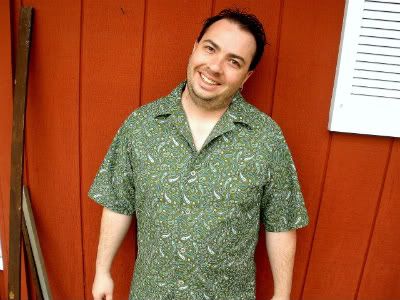 The button holes and buttons were the only part waiting to get done this morning, so I jumped right in and didn't stop until it was finished. I was terrified that I would cut through the stitches on a button hole, or that I would stitch it all wrong. The last time I was supposed to use button holes, by direction of a pattern, I gave up and just sewed the buttons on and decided it couldn't come unbottoned. I was too scared to mess up the so-far-so-good project to go and explore the unknown. With a button-up shirt, it turns out it's not so simple!
And I took a close-up to show the design and color a little better, too!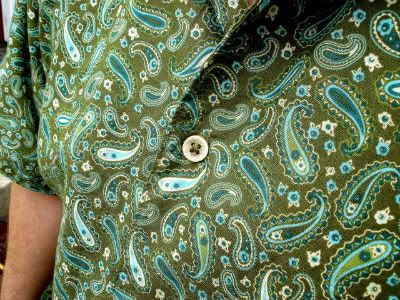 So far, this is my most accomplished Sew & Tell! I'm looking forward to seeing everyone else's finished projects this week!